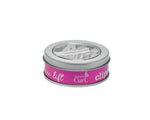 Kozma Curl Clips
Kozma Curl Clips
Roots falling flat? No problem! Kozma Curl Clips to the rescue, to help you achieve lift where you need it most.
Curl Types:
For all curl types.
Made with Love:
Rust resistant stainless steel clips are made to use with damp hair.
How to use:
Clip at roots for lift when hair is damp. Allow hair to dry completely. Remove clips and gently shake roots. For best results, consult your Kozma Curl specialist.
Size:
Container includes 10 double prong stainless steel clips.
Dhs. 20.00 AED